Well as i was writing up crap for my blog, Gourean msg me:
"V r departing now!"
shit.. i really duno tat today's de day u all r going to P. Tioman. Shit GR for telling me tat..
No wonder i saw no ppl in de live messenger juz now. Haha.. Hope tat u all r sleeping well on de bus now, as i hope tat tis few days wil be de best memory of our 2 years microbe life. Me being here, will be sitting in front of my laptop, flashing back de old memories of the passing two years...
苏打绿-爱人动物wma - soda green
(Pls play tis song while reading, it add to the feelings
)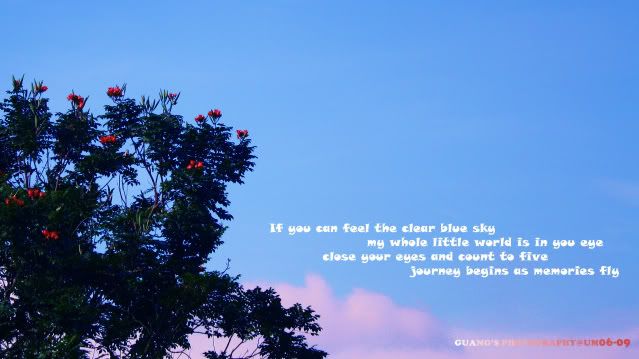 Time really flies.. I can stil remember de day tat i get to noe which major i'd get.
I m in my training camp for Pembantu Mahasiswa.
Life was tough tat time, no enuf sleeping time.. When my fren tell me tat de list is out, i quickly check de list thru UM website.
I got MICROBE!!!
But not much of my fren get de same major wit me.
Out of de 17 chinese students i oni noe Peekeek tat time, n i m not too close to her too. Then a fren got Biohealth n she was also complaining tat no fren wit her, n its lucky for me as her roommate Peili is de same major wit me.
Not quite same as i expected, but ok la since i can get to knoe new frens there.
Sem reopened. I attended 1st lecture of my major in Microbe despite of being so tired attending lecture straight after duty of orientation week. All my PM frens gone back to their kampung n rest.
I m very excited bout de lecture, but it seems tat i cant recognize any of de coursemates in tat lecture as its General Microbiology and its a class wit mixture of 2nd year microbe, biohealth, 3rd year biohealth n some student taking science education.
Class are too big too.
But then later duno how, v had a class meeting n elected our class representative. V called him DaiLou as he is de eldest among us. (Hehe.. Not a bad choice, proven after two years of "service".. haha..)
Ya, i think its Aaron tat ask us to elect a class rep after lecture of microbial physio n biochem.
I guess de 1st few coursemates tat i get to know is GR, Dailou, TYY, Elaine.
Then i can recognized Laikuan too, not because of her 'big sister'ness.
I think i saw her sumwhere b4 during our secondary skol.
She is from Kepong after all.. N sheueyin also, she catches my eyeballs tat time too
.
(Hehe, would'nt scare to expose tis now, as v'd all grad n separate le.. haha). Then there's Xiupei, which i recognized her coz she'd been in a few same tutorial class n lecture during our 1st year. Alwaz hang around Hanjie n Honleong. But too bad she nv recognize me.. haha..
At the end of our 1st week, v'd ady gone out together to watch a movie at 1U.
Cant remember clearly wat movie v watched, issit Harry Porter?
Haha.. I can oni remember tat me n GR ate in A & W. Then some of de gals go buy present for one of our coursemate(oso duno who le).
Then v oso been to another japanese shop after tat while waiting for others.
Huiyen de cute little gal sat wit me n GR, so v chat n get to know her n de name of a few gals lo.. haha.. GR oso told me tat our bro actually gone to de same fac, which is the medical faculty of UKM. Wat a coincidence!!!
De easy week passed, n v started our lab work. Forgot which lab it was, but enough to show our SS talent.. Here's a few photo of tat time:
Gals posing in their lab coat:
Some classmates from other major: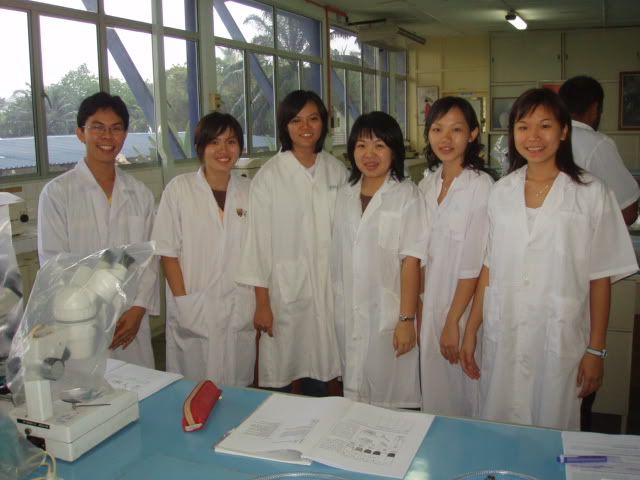 De Famous Four Grass of Microbes 06/07: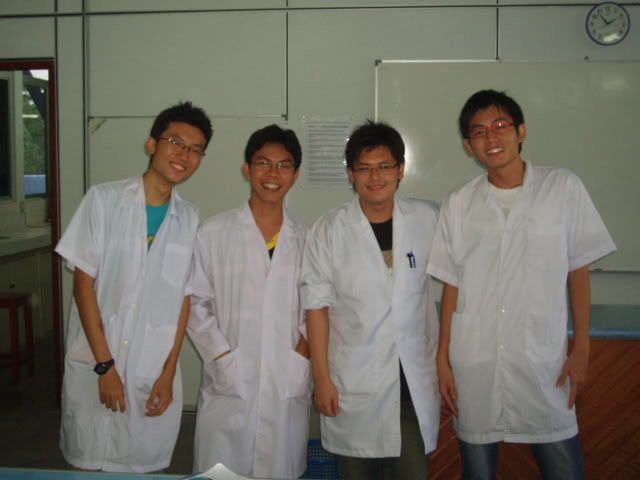 Pretending to observe plate + bullying our dailou: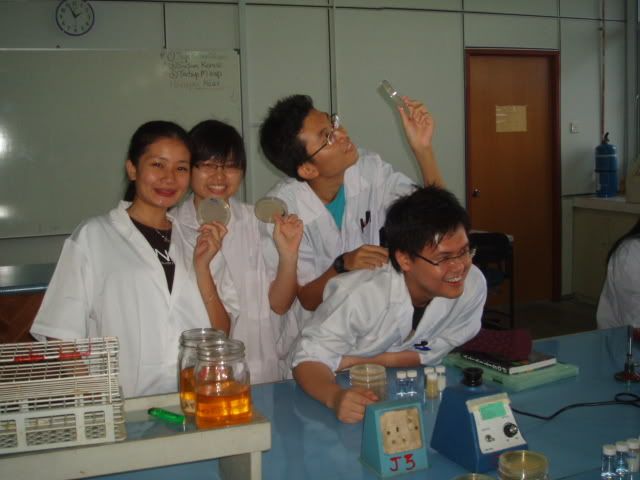 Till here 1st lo.. very late le.. Now is 2.45am. Guess tak sampai half way your journey rite.. hehe.. enjoy o!