Don't know what to be happy about, but cheer up your day with a doodle from Google!
Go to Google page today and you'll find this: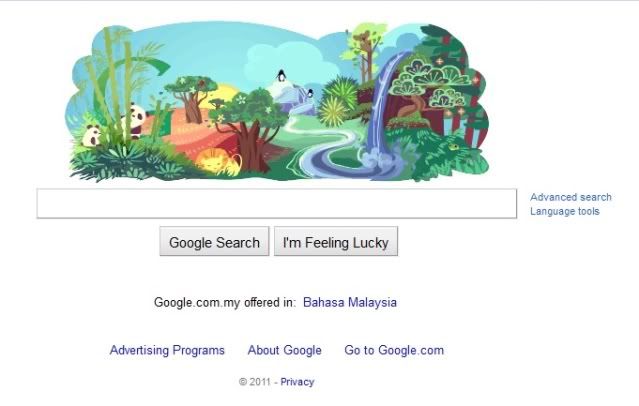 Try to scroll your mouse over the icon(on google page, ofcoz!), all those animals moves!
The obvious ones are (from left) pandas near the bamboo trees, lion sleeping under a tree, penguin on the ice berg, koala bear on another tree near to the waterfall and a frog beside the bottom of waterfall.
There are three more hidden:
(From left), a bird on the tree next to the word 'G', (salmon) fish in the river then swim up the waterfall, eaten by a bear hidden; and finally, a butterfly in the fan-like tree beside the waterfall too.
Hidden meaning?
Panda = Asia (Spitting to parents?)
Lion = Africa (Sleeping Africans??)
Parrot and Frog = South America (Pirates and ???)
Penguin = Antartica
Salmon and Bear = Europa (ruled by the Russians(bear) ??)
Koala bear = Australia (likes to show off??)
Butterfly = North America (the Butterfly Effect??)
Well, not to care too much. Just enjoy the doodle! Its interesting!