The snow ball of 1Malaysia email are growing bigger, some Malaysians' brains (or eyes) are growing smaller...
1M Malaysians who don't want Najib's 1 Malaysia email
featured an article from Malaysiakini, namely
1Malaysia Email not entirely free
. Emotional Malaysians, like usual, clicked to read the article. However, I don't seems to know what happened, we are required to login to view the page initially. This is what I saw when I clicked on the link for the first time: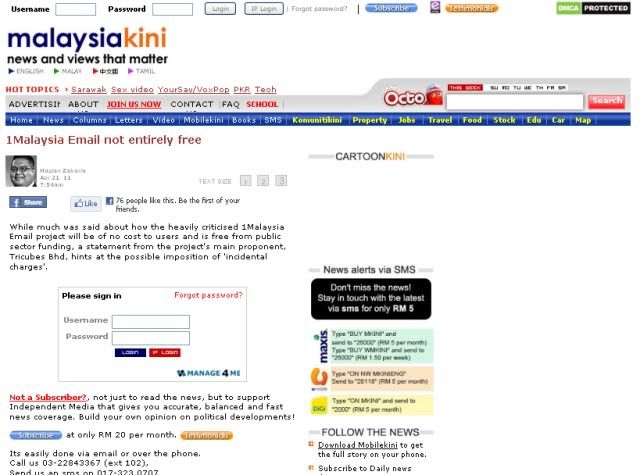 Note: The signing in on this page is to login to Malaysiakini to read articles from the site. The statement "Subscribe at only RM20 per month" is referring to subscribing to Malaysiakini.
Then on the Facebook page that featured the link, you'll find some idiots/making conclusion without even reading the whole article:
So I guess we can link the quality of a person to the government that governs them?
(Sorry, I seems like shooting myself too...)
Then, I like thinking minds such as
this one.
Linking the project to bursa saham. Interesting...